Q: Tell us about your background – what kind of music did you and your close family listens to?
Rabih: I was born in 1980 and as a child, I heard mostly pop music, the kind that you hear today on VH1 and it is a wonder that video clips were made for them. As a child I heard a lot of different music styles and had the opportunity to explore a wide range of musical genres. There wasn't any particular style of music that we heard – we listened to almost everything like non Arabic and Arabic music Rock, Pop, Classical, Opera and there weren't any boundaries. Also, my dad listened to a lot of music and used to record music shows from the radio on a tape recorder that he had, and even played the OUD back in the days.
You deal with many stereotypes, when you grow up in a Palestinian home, particularly in the music aspect – the automatic music genres were supposed to be oriental in nature, but with me this wasn't the case. My parents were influenced by western culture, as well as eastern, so i had the privilege to absorb both worlds, though the western one influenced me more.
At the time, video clips weren't that common, and as i grew up, I found out that a lot of the music that i was inspired by were also made into music videos, and since most of the pop music at the 80's were well synthesized, i could suddenly understand from where all these odd sounds are coming from; Synths, Drums and Guitars, Wah Pedals and Drum machines were appeared out of nowhere, clearly saw. Minimalistic and epic music videos were made for the same songs i was heard all of my childhood – The visually was mind blowing.
Q: Looking backwards, from an adult point of view, what past experiences influence your musical preferences today?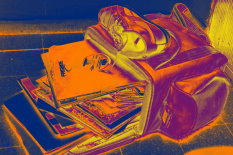 Rabih: The 90s' music really influenced me and it came at a good time when I was thirsty for new things. In terms of musical development, I grew up experiencing the transition from the 80's to 90's, and my adolescence fitted nicely together with the music of the 90s. It was hard not to be affected by bands like Nirvana, Pearl Jam, Rage Against the Machine, Red Hot Chili Peppers, Metallica, Sound Garden, Sepultura, Alice in Chains and Stone Temple Pilots. They have affected my years of youth strongly – I can say that I was addicted to those bands.
The effect was so strong that I decided I want to be a part of this sound, so I bought an electric guitar and amplifier and decided to took a couple of lessons. Later I bought a few pedals and effects, so I started combining them and defining my sound as a guitarist. i guess this was the actual point that i decided that i want to be a musician. My familiarity with pedals and effects served me later in the electronic music productions because I combined many different effects to create a specific sound. I still do it today. In fact, most of the music I create today is based on effects more than on the musical instruments themselves.
"For me, music is like a DNA fiber that evolves from the combinations of its own source."
Q: What do you think about the music today and the progress?
Rabih: For me ,music is like a DNA fiber , that evolves from the combinations of its own source.
On the one hand, much of what you hear today is recycled music that tends to damage itself and the source from which it comes from. It is easier when it comes to an industry that plays for safe and profits rather than principles, and in the process of doing so, a lot of talented artists fall into the trap of fame.
On the other hand, there is the Internet where each artist can display his work, interact with other artists, get a feedbacks from fans, it is a platform that contains an infinite space of talented artists with sophisticated music.
Q: Tell us how you were exposed to electronic music. What connect and drew you in to this world?

Rabih: At the time, while listening mostly to rock music, I kind of rejected electronic music. I belonged to the rock camp and I couldn't betray it. The electronic music in the early 90s wasn't that good (in my opinion), so the chemistry wasn't there.
Later, my perception was changed quite, it happened when i started clubbing and by accident when I "landed" on one of the most famous clubs in Tel Aviv those days – the Lemon. It was a small club that hosted underground house parties. The Musical style that the club played was hypnotic – gentle, melodic and groovy House with a mixture of Jazz and Tribal Techno. The BPM was slower than i expected, and the melodies were short than i am used to, still the minimalistic nature of the music that i was heard made me more curious as there were more to expect from it ,everything in this groove was hidden, mysterious and unpredictable. That place made me fall in love with electronic music in general and in house music in particular.
As a result, I made an addition to my playlist right away, and it includes artists like John Acquaviva, Derrick May, Kevin Yost, Deep Dish, Jori Hulkkonen, LTJ Bukem ,4hero , A Guy Called Gerald, Goldie, Fatboy Slim and The Prodigy.
It did not take me long to buy a Groove Box that I could afford at the time, and I started building patterns and rhythms, joining melodies and grooves. I added guitar lines into those patterns and the result was very good. As I progressed, I replaced the Groove Box with a computer and a synth; it provided me with more possibilities of editing. I started producing house music myself.
Q: I see that you are drawn into writing music for movies quite often. Were you always attracted to it or did it just happen?
Rabih: As a guitarist, I was always looking for a band to jam with. It just so happened that a friend of mine had a drum set, and his brother played the guitar. Right after I found out, we started playing together, defining our sound. We were also on the look for a bassist and a vocalist. Later we found a bassist that was also a singer, and the band began to take form. We started writing songs and eventually we performed only once at a cafe \ Theater in Jaffa called "Saraya" under the name "GOGO MONKEYS AND THE BOURTOUCALS". The show was very good, and I think we managed to leave our mark that there is a rock band in Jaffa (actually, the only rock band Jaffa).
"You deal with many stereotypes when you grow up in a Palestinian home ,particularly in the music aspect."
At that time, the drummer (Scandar Copti) received an offer for a film project. He had to shoot a private diary to be displayed on the Student Film Festival in the Tel Aviv University. He came to me to develop an idea for the diary. In the process, I decided to combine electronic music that I composed as soundtrack for the diary. The diary named, sarcastically, "The Truth". It begins with a live performance that was recorded directly to the camera. The short film was a success and was screened on several local and non-local events such as, schools, community centers and other artistic displays. In addition, the movie took part in two important exhibitions; one was "Men in the Sun" in 2009, in Herzelia Museum. The other was "Stop Making Sense", in 2010, in Oslo, Norway.
Back then, I didn't realize that I could actually compose a soundtrack for a movie, and it wasn't my aim at all… Later, Scandar began working on the Ajami script with one of his colleagues – a writer and director Yaron Shani. They both asked me to read the script (which was really a rough-cut script) and eventually write a score for a full feature film, an offer that I couldn't turn down, since they didn't take no for an answer.
Q: Tell us about Ajami soundtrack.

Rabih: The soundtrack for Ajami was written as an album rather than a traditional soundtrack. The tracks weren't made per scene, or a certain feeling that a particular scene was supposed to generate. Instead, I decided to write a soundtrack that contradicts each scene, so the outcome felt realistic.
Q: Has the fact that the movie Ajami shows social and cultural difficulties, along with your Jaffa roots, made you express a personal musical claim?
Rabih: For me, Ajami represents the thirst for a change, a change that is chained to prejudice and tradition. A thirst that is becoming more and more tangible and it is seen not only in Jaffa, but throughout the Arab countries around the world, and the music is taking a big part in the transformation process.
I'd like to think that getting the OPHIR award (which is the Israeli Oscar) for the original score, gave me the opportunity to be a part of that process – spreading the awareness of electronic music and its existence in Jaffa and the Arabic world, and proving that there is no taboo on electronic music.
Q: What about your experience with the electronic scene; the places, audience and performances. Has it affected your music development?
Rabih: Thankfully, I was lucky enough to appear once with a band called "Electronic Front" whose leaders were Aviad Albert and Binya Reches. The band performed live in front of an audience at a club "Dinamo Dvash" in Tel Aviv. I had a synth leading part, which was the only melodic part in the whole show.
The e-front had a dark techno theme that was going on in their shows and had many artists performing with them as guests. Though the show was virtually the main attraction, it was actually the rehearsals that benefited me the most. I was exposed to different kinds of artists. Their perception of what electronic music is was unconventional. Synth was replaced with samplers, sequencers and drum machines with controllers and triggers – anything that made a sound and could be sampled, was an instrument for them.
This was the most significant experience that changed my perception on electronic music and its possibilities. The acquaintance with the band helped me redefine the way I make music.
Q: Have you had experience playing as a DJ in clubs and parties? Did you try to focus on live electronic music performances?
Rabih: I had the chance to perform as a DJ in several places like dance bars and roof parties, but since it wasn't my aim, I did not develop this habit to a professional level. In fact, my real goal was electronic live performance. I am more interesting in performing live as an electronic producer, rather than a Dj.
Jaffa at night – Rabih Boukhary neighborhood with a view of Tel Aviv.
Q: How do the Israeli and Arabic societies see you, and how does it affect you?
Rabih: Every society has its own boundaries and limitations, some have more than others. It's doesn't mean that the Israeli society is more forgiving than the Arabic one. The Israeli's state of mind was very stereotype, and the Arabic state of mind was very prejudice. And i say WAS, because i think that today this is NOT the case anymore.
There is no doubt that the Israeli society views me as a black sheep; someone who goes against the flow. But also the Arabic people have the same opinion. Yet, this had never bothered me; on the contrary, it only contributed to my publicity. There were many articles on the Israeli media about the Arabic guy who creates electronic music. At the same time, the Arabic sector saw me as the devilish guy who listens to hard rock and plays the guitar. It inspired me more than anything else. The effect of these attitudes made me feel that I am on a mission of making a change.
"I think that the real progress lies in how the music is advertised and distributed – it is becoming more accessible."
Q: What's going on with you recently?
Rabih: A while ago I released my album IN-CAR-NATION at indiepush.com The album is inspired by childhood ,growing up in malls ,sunny weekends ,rainy school days ,the Royal Jordanian TV Broadcast ,record listening ,VHS tape realm, ALPHA and the Lazer Quest.
Lately I've been busy with a small project called TEchNest. This is a platform for artists who play live music with real musical instruments. The purpose of this project is to present them online on video. I believe the interaction between the audience and the DJ / artist is very important, so I prefer to present DJs with live devices. Hopefully, it will catch on in time.
Download Via DropBox
Tracklist
1.Rabih Boukhary – Stop
2.Rabih Boukhary – Techno Cafe
3.Portishead – Strangers (Rabih's Light Mix)
4.Rabih Boukhary – The Ultrasonic Radio Show
5.Rabih Boukhary -88 Grey Shades
6.Rabih Boukhary – In_Car_Nation
7.Rabih Boukhary – Freak Of The Week
8.Rabih Boukhary – The Orbit Of Neptune
9.Rabih Boukhary – Staring At The Sun
10.Rabih Boukhary – Send Me An Angel (Rabih Substance H771.3 Mix Featuring Eli Sorani)
11.Rabih Boukhary – Sorted Memory
12.Rabih Boukhary – Luigi's Revenge
13.Rabih Boukhary – Yellow Whale